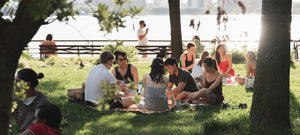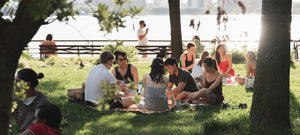 All we wanted was a nice brunch...
Our story begins on a beautiful summer day in June, 2017. Chris, Josh and Matt had planned all week to have a picnic with their wives and dogs in Battery Park, NYC, instead of the usual New York City weekend brunch ritual. Hanging with their friends, relaxing, and drinking their favorite brunch cocktails sounded like the perfect way to enjoy a Saturday.
Preparing for the picnic brunch, everyone split up the responsibilities – who would bring the snacks, who would bring the booze and fixings for Bloody Mary's and Mimosas, and who would bring the picnic blanket. It all sounded so easy.

Once they all got to the park, the party was ready to start… or at least that's what they thought.
The idea of the perfect picnic brunch became impossible. Making cocktails while wrestling with the blanket, cooler, food, champagne, orange juice, vodka, and dogs proved just too much. And by the time one cocktail was ready, the ice had already begun to melt.

In the end, they did not get to enjoy their Mimosas and Bloody Marys. Their picnic brunch had fallen apart, but they did leave determined to make sure that no one would have to endure the same hardships they experienced while making their brunch cocktails.